Skip to Content
Basement Finishing in Newnan & Peachtree City
Finish Your Basement with Georgia's Home Renovation Specialists!
The basement is one of the most underutilized spaces in a home. It is often neglected and left as messy storage space or simply thought of as a place that holds pipes and structural elements, when in fact it is the perfect place to expand upon and create something amazing. Realizing the potential of this space means you have the option to design something entirely new! Because the basement can often feel somewhat removed from the rest of the home, you can choose to stay on theme with your house's design or try out something different. Create a workout room, home theater, new bedroom, entertainment area, bar, arcade, wine cellar, and more using up-to-date design ideas and materials.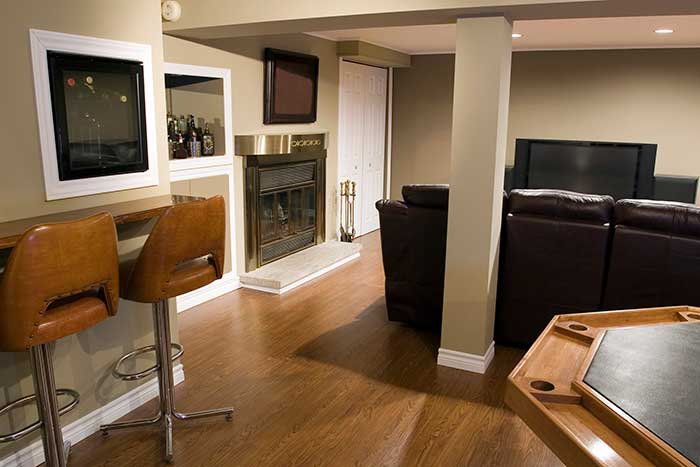 Create Additional Space Without New Construction
One of the pitfalls of putting in an addition to your home is it can be a lengthy process with a bigger budget than you are ready for. With an unfinished basement, you can expand your home and create additional space without dealing with the downsides of adding new rooms. Why leave the basement unused when it's such a big part of the home? With quality lighting and design, a grungy looking basement can be transformed into a clean, bright living space you never knew fit into your home!
Maximizing the use of your basement will also add value to your house. You can even create a new bedroom or apartment with a private bathroom and greatly increase the market value of your real estate. The decision is yours!
Quality Construction and Innovative Design
Structured Home Services focuses on reliable and quality construction done by experienced staff. Working together, we will implement modern design tools to create a room that uses your basement's positive elements while making sure there is enough light and air circulation to keep the room bright and comfortable. We also offer free estimates so you don't have to worry about costs until we begin construction. As a local Georgia company, we strive to form long-lasting relationships with our customers that are enforced by high-quality work. To do this, we will ensure you are happy with the home improvements every step of the way. We think of all design projects as joint efforts between our staff and your family, as we will work together to create a space you love.
Weatherproofed and Appropriately Outfitted
One of the issues with basements is they lack natural light and are at a disadvantage by being the bottom, structural layer of the home. This is why we will make sure your basement is weatherproofed and appropriately outfitted to stay beautiful even with the threat of natural weather damage. We choose the proper floor and insulation to protect your new finished basement.
Schedule Your Free Estimate Today!