Skip to Content
Structured Home Services Re-Roofs Your House
Structured Home Services serves residents of Newnan, GA with re-roofing services. Customers as far as Peachtree City, GA trust our teams to install high-quality roofs as fast as possible without sacrificing the high-quality work we're well-known for. We pride ourselves on our customer service, and our process is designed to make things easy for you. We begin with an in-depth inspection of your roof and provide a free estimate. During the examination, we evaluate the roof and determine the extent of the damage.
In some cases, our team can actually repair the damage. This is why we recommend you call us for a bi-annual roof inspection. Roof damage often occurs during the stormy seasons, but if caught early, we can usually salvage the roof. Keeping up with inspections can help avoid having to completely re-roof the property. Additionally, if you're considering adding a new room to your home, we can take care of the roof installation process during the construction of the new room.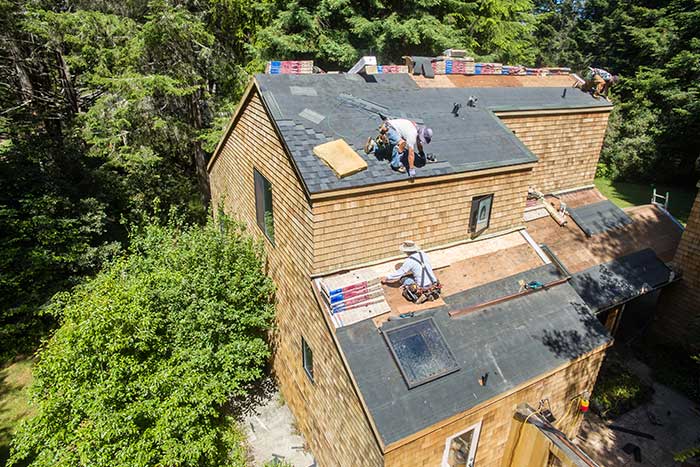 Premium Residential and Commercial Roof Repair
Our licensed contractors have more than enough experience to repair damaged roofs – not just replace them. Roof damage is inevitable. But repairs are often more than possible. Roofs become damaged due to rain, snow, sun, and animals picking apart shingles and insulation. The end result is a roof that doesn't function correctly. Not only can this make it more expensive to live in your house, but it can also be potentially dangerous. Leaks, stains, and mold are all common byproducts of roof damage. While not common, cave-ins or falling debris can happen, endangering your family or employees.
Fortunately, roof damage doesn't always equal roof replacement. Sometimes Structured Home Services can repair the damage. Even better, we can target specific areas while leaving unaffected or less affected areas alone. This is a significant advantage to homeowners or commercial property owners trying to avoid re-roofing. Customers throughout Newnan, GA and to beautiful Peachtree City, GA rave about our roofing repair services. We can fix a host of problems, including:
Weather damage or fire damage
Missing shingles
Leaks
Water damage
Algae
Mold growth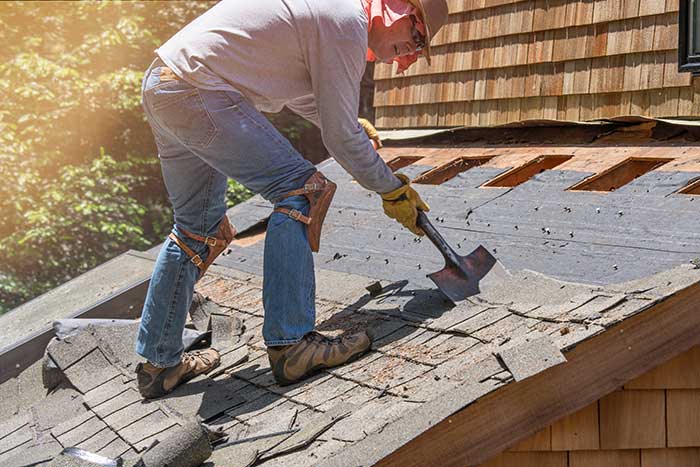 Expert Roof Replacement in Peachtree City, GA
How long your roof will last before it needs to be replaced depends on the type of roofing materials used during installation. Asphalt shingles only last 20 to 30 years. If you live in an older home with asphalt shingles, there will come a time when the roof needs to be replaced. We don't perform re-roofs until we've determined whether it is necessary. It is possible we can repair the damage and save a complete replacement for later. To figure out whether a roof replacement is needed, we inspect the roof and provide you with a free inspection that includes our findings. From there, our specialists begin the process of installing a new roof. While the quality of materials being placed on your roof is undoubtedly important, it is also crucial that the contractors doing the inspection know what they're doing. We do. We work with a wide range of roofing materials, including:
Asphalt shingles: Asphalt is strong and durable and is our most economical option. The cost-effectiveness and durability of asphalt make it our most popular offering.
Clay tiles: Clay tiles look great, last for a long time – 100 years – and lend a distinctive look to your house.
Metal: Metal roofs are great for areas that receive strong storms – like Peachtree City and Newnan – because they are incredibly durable.
Slate: Slate is another beautiful and distinctive roofing surface. They're very durable, and as an added benefit, fire-resistant.
Wood shingles or slate: Wood shingles will make your home stand out from your neighbors. Wood shingles are hundreds of years old.
Contact Structure Home Services for
Re-Roofs and More
Many contractors will leave your home messy and unkempt after repairs, but our team will maintain a clean working space and reduce disturbances as much as possible, so you don't have to worry about being inconvenienced. Our 25 years of experience explain it best: We love what we do, and we do it well. Structured Home Services is proudly locally-owned and -operated. We're dedicated to building and maintaining relationships with residential and commercial property owners throughout Peachtree City and Newnan, GA. Our trusted partners work with us because they know we do great work, offer competitive prices, and get the job done on time. We're honest and thorough, so you can be sure our free estimates will be accurate.
We've repaired and replaced roofs throughout Peachtree City, Newnan, Fayetteville, Jackson, GA, and beyond. Our clients come back to us because we follow up and offer additional help and advice for maintaining their roof. Our personal approach to roof replacement and new roof installation make the new roof cost well worth it. If necessary, one of our specialists can give you reliable references from our past satisfied customers. Contact us today to get started.
Schedule Your Free Estimate Today!