Skip to Content
Covered and Uncovered Decks for Your Home
A deck is an addition to your home that can be whatever you want it to be. You can use it to enjoy a relaxing evening and watch the sunrise, or you can entertain family and friends with a backyard BBQ. You can use your deck as extra storage space, or as a place to keep and use a fire pit. Why not install a partially-covered deck with an outdoor kitchen on your deck so you can eat delicious meals? You can even design a deck to serve as a play area for your children. The possibilities are endless with custom decks in Newnan, GA. Structured Home Services develops and builds customized decks that take your home's existing décor into account, blending the old with the new and creating a seamless transition from the interior and exterior of your home. Best of all, deck installation is affordable and can be done within most budgets and time frames.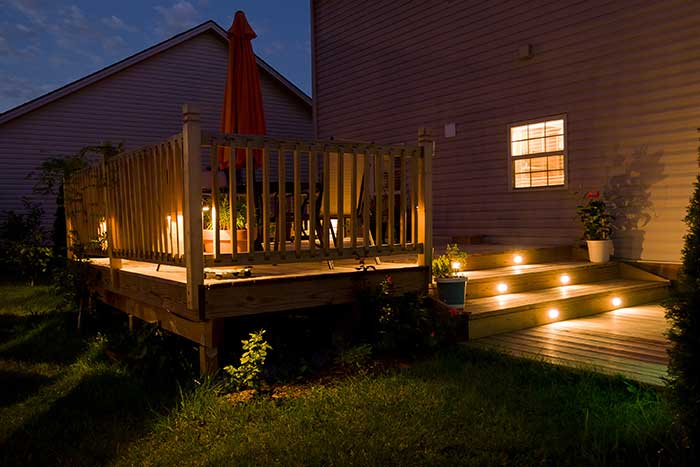 Fully-Customized Deck Design for Peachtree City, CA
Each of our decks is custom built to your specifications. That means no two Structured Home Services-designed decks are the same. We focus on innovative design techniques and principles and emphasize variety, which allows us to deliver unparalleled client service to our Newnan, GA customers. Custom decks are a collaboration. Once you've chosen to proceed, we sit down with you to discuss your ideas and vision for your custom uncovered or covered deck. One of the things that help us determine the correct approach is to know how you envision using the space. We want to see if you plan on grilling on the surface, whether you might have it adjacent to an above-ground pool, and anything else. This consultation can take place in our office, but visiting your home is the best way for us to guarantee your deck turns out exactly how you wanted. One of the ways we do that is by building features that match the aesthetic style found in the interior of your home. Those might include:
Built-in benches and a bar: Asking Structured Home Services to build a built-in bar and benches are a great way to maximize the custom-built deck if your goal is to throw amazing summertime BBQs.
Pergolas and full roofs: If you want full use of the deck, even during rain and thunderstorms, then adding a pergola or a complete awning is a great way to do so. Custom covered decks are one of our specialties.
Several tiers built into a sloped lawn: If your yard slopes down from your house, then consider having our experts design a deck with multiple levels. This is both distinctive and functional, as you can keep the grill away from the lounging area.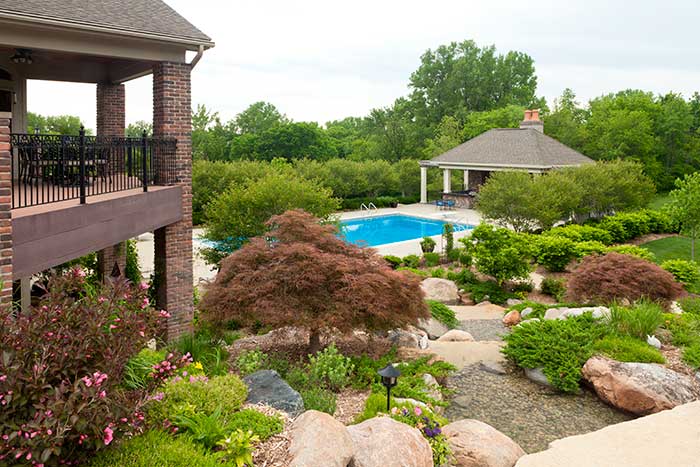 Keep Your Belongings Safe with a Covered Deck
Structured Home Services also has a covered deck option available. Having a covered deck transforms your deck into a year-round livable space. It protects your furniture and other property from weather damage, preventing unnecessary repairs. It can provide a space to kick off muddy boots and raincoats, thus reducing dirt and mildew inside the house. Added features like this raise your property value even more and help you turn a profit if you decide to sell. If you think you might be moving to a new home soon, consider adding a home addition or re-roofing as well, as these enhancements are also helpful. Even if you're not planning on selling, the little details put the finishing touches on your beautiful home. We use high-quality and durable building materials and contractors who know how to get the job done safely. There are other benefits to covering your porch, including:
It provides shade in your home
It increases your property's value
You can enjoy the sun without being directly underneath it
It prevents bugs from ruining your nice dinner
Easier to clean
You can add a screen or even glass later
It can double as storage space, clearing up clutter inside your home
Trust Our Well-Earned Reputation for Custom Deck Excellence
We focus on creating custom decks that are the perfect marriage of form and function. With the newest styles of material and design, you can completely transform your backyard without having to deal with costly repairs from subpar installation. Your new deck will last, while the covered deck feature also guarantees that anything on your deck will be safe from the elements. Structured Home Services is proud of the reputation for excellence we've built throughout Newnan, GA and the surrounding area. Customers as far as Peachtree City and Jackson, GA thoroughly enjoy our creations throughout the year.
Schedule Your Free Estimate Today!