Skip to Content
Expert Covered Patio Builders in Newnan & Peachtree City
Enjoy Summer with a Covered Patio
While it's always nice to have a patio you can sit on to enjoy the fresh air, the heat can often become debilitating, and the sun can cause skin damage and deteriorate furniture. By installing a covered patio, your outdoor space will be safe from the harsh effects of the weather, including rain and hail, that could damage your patio. Our patio covers are a direct extension of your home, so in addition to providing a cool, shady area for you and your family to enjoy, they can also protect the windows and outside areas of your home and create the illusion of length to make your home appear larger.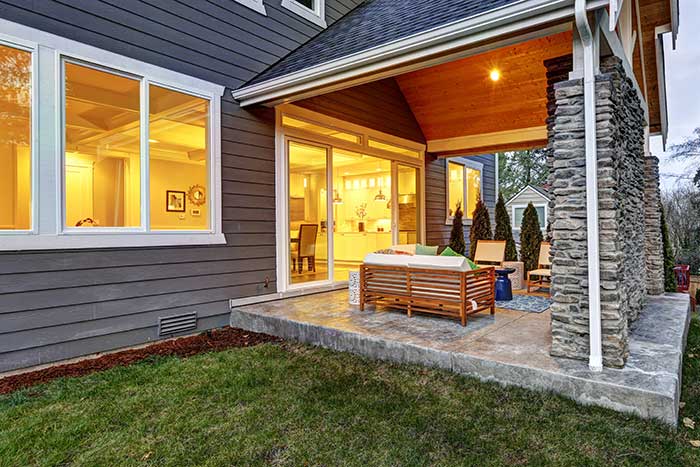 Covered Patio Benefits
The financial benefits of owning a covered patio are numerous. Outdoor living spaces often go neglected because they are difficult to maintain and do not offer the comfort one is hoping for, especially in the hotter months. By installing a covered patio, you are finally getting your money's worth by accessing an underutilized area of your home. A covered patio can also potentially decrease your energy expenditure, as it will shield your windows from the sun, making it easier to keep your home cool. In addition, you can finally furnish your outdoor space properly without worrying about having to cover or remove furniture with the unpredictability of the weather. Your chairs and tables will remain safe and pristine under a beautiful covered patio.
Our team of contractors will provide professional installation using quality products, ensuring a patio that will offer years of fun and relaxation.
Increase Your Property Value
A survey conducted by the National Association of Realtors showed that a patio, particularly a covered patio, is one of the top features homebuyers look for in a house. By investing in a covered patio, you'll increase your property value if you decide to re-sell your home. The protective aspects of a covered patio will also help you maintain a high selling point, as there will be less weather damage (and fewer repairs to be made) to areas of the house preserved by the coverage.
Offering a Variety of Designs to Fit Your Needs
Of course, the cosmetic aspects of your home are probably just as important to you as the safety issues. For this reason, we offer a variety of designs and options in our covered patios to make it easy for our customers to personalize their outdoor living space. We set ourselves apart from our competitors because we value the opinions and desires of our clientele, and know your home is a place of pride and should be treated as one. Choose from different colors and styles to create a unique covered patio you can enjoy all year round.
Schedule Your Free Estimate Today!