Skip to Content
Re-Roofing Done Right
Having a damaged or leaky roof can be stressful. further issues. When you need a re-roof, trust the roofing experts at Structured Home Services. We have more than 25 years of combined experience re-roofing houses and commercial buildings in and around Newnan & Peachtree City. Re-roofs are a necessary part of property ownership, but that doesn't mean you have to pay an arm and a leg. With a re-roof, we're layering new shingles or roofing materiIt's one of a homeowner's most significant expenses, and it has to be taken care of the right way to prevent als on top of existing ones, which is a cheaper option than a full replacement or roof installation.
We do our best to keep our prices low and work with our clients to ensure they are taken care of. For instance, in many cases, a re-roof isn't the only option. Structure Home Services can repair your existing roof, perform tear-off services, and install brand new roofs on your home or new addition.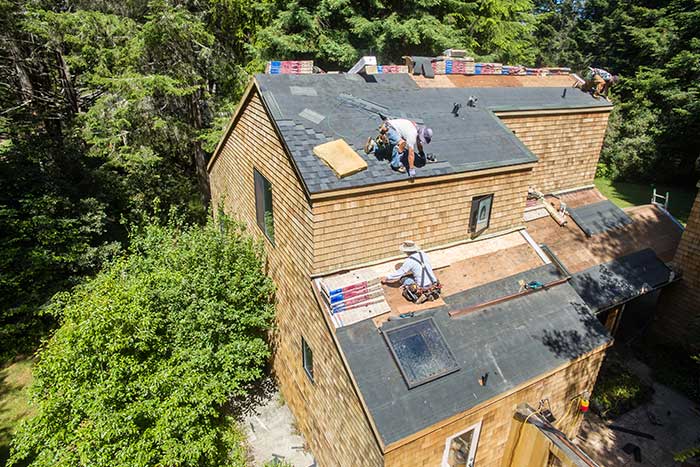 Why You Should Invest in Re-Roofing
Like any other structural element in your building, your roof plays a vital role in how long the building lasts. The roof is the first line of defense against the elements. It keeps your energy bill low while you run the air conditioner during the sweltering Georgia summers. It takes the brunt of the damage during thunderstorms, tornados, and the outer reaches of hurricanes. Hail and rain both punish the surface of your roof. Even animals get in on the action; pests claw at your shingles and insulation and cause damage. Your roof takes a beating over the years, and regardless of what preventative measures you choose, it is prone to damage and has an expiration date. Therefore, it is vital to commit to bi-yearly inspections. These checkups reveal damage, much of which isn't visible from the ground.
Increased support: Even if your roof only has mild damage, re-roofing is a great idea if you want to strengthen the roof. The reason is placing new shingles over the existing ones adds an extra layer of protection from the elements.
Aesthetics: If you are missing shingles or the roofing materials on your roof are damaged, then re-roofing is a cheap way of improving the aesthetic look of your property without shelling out for a complete replacement. Frequently a re-roof is all that's needed.
Cost-effectiveness: Because re-roofing is the middle ground between repairs and replacements, you get the best of both worlds. It can make a more significant impact on the roof than repairs can while being cheaper than a full replacement.
Health benefits: One reason to invest in a re-roof is to remove mold and mildew from the equation. Both these organisms ultimately work their way into your home, where they are dispersed through your HVAC system. Re-roofing can help eradicate them and result in a cleaner household.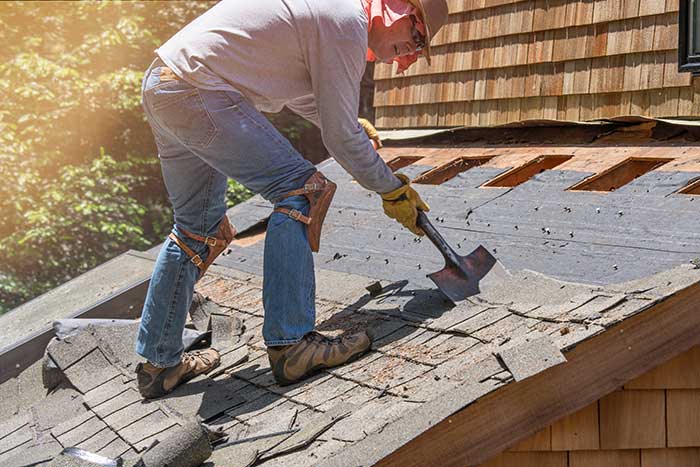 Don't Wait Until You Notice the Difference – Call today!
Sometimes, you might not notice a problem until the next storm hits, and heavy rains seep into your home or office. We want to make sure that you don't have to worry about a roof collapse, mildew or mold from water leakage, or any other subsequent issues from a bad roof. That's why we offer free estimates. We want to encourage our customers to schedule appointments with us twice a year. We believe these appointments are critical. One reason: If an issue is caught early enough, it can make the difference between a repair or re-roof and a full replacement. In the end, it can save you big money. If we find an issue, then we can advise you on the best route moving forward. Our honesty, integrity, thoroughness, and transparency are why we've got a long list of satisfied customers.
Contact Structured Home Services
for Re-Roofing
We take great care in every step of the re-roofing process. We start by selecting high-quality materials and drafting the most aesthetically-pleasing design. Then, our highly trained installers lay down shingles or tiles. Once we're done, we leave your property spotless. Lastly, we don't consider the job done when we go. You can count on Structured Home Services to follow up with you after your project is complete. We believe that part of our job is to ensure the roof is functioning as it should. We want to allow you to express concerns with us, and we also want to give you advice on the general care of your roof. Our happy customers in and around Newnan & Peachtree City, GA, are our best advocates, and we want to make sure you are one of them.
We encourage you to request references from our past clients before you hire us. You will find that they are pleased with our service and their new roofs. Call today for a free estimate.
Schedule Your Free Estimate Today!